According to data analyzed by our own Admir Tulic, the meme cryptocurrency Shiba Inu (SHIB) appears to be decoupling from Bitcoin (BTC) based on their 30-day correlation coefficient.
Admir, a renowned onchain analysis expert, examined the 30-day and 60-day correlation coefficients between SHIB and major cryptocurrencies using blockchain analytics platform IntoTheBlock. The data revealed that SHIB's correlation to BTC has dropped to -0.58 over 30 days.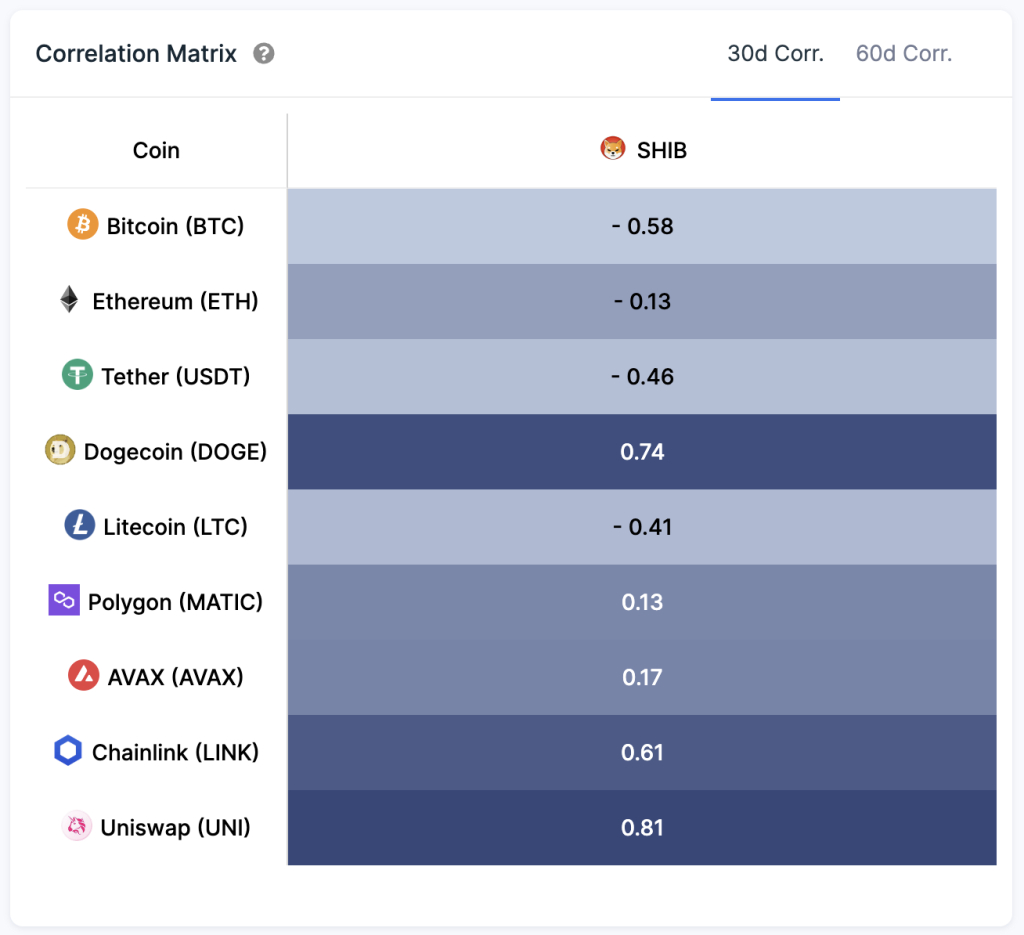 "This negative correlation suggests that SHIB is starting to trade more independently from Bitcoin, which has not been the case for most altcoins historically," said Tulic.
"As SHIB continues forging its own path and becoming less tied to BTC's price movements, it could be a sign of the token maturing."
The Biggest Airdrop Of The Year Is About To Go Down – Join Now!
🔥 Nansen.ai just secured $75M in funding, and their airdrop waitlist is live!
💰 Arkham raised $12M, but their airdrop was worth up to $150K! Imagine how much could Nansen token rake in. Don't miss out (make sure to verify your email after they send activation link – takes 10 minutes to arrive!
🔥 Join now: Nansen Airdrop Waitlist
Show more +
The data shows SHIB has a moderately high positive correlation with Dogecoin (DOGE) and Uniswap (UNI), which CaptainAltcoin believes is because both are prominent meme coins and Ethereum ecosystem tokens respectively. However, SHIB exhibited very little correlation to Ethereum (ETH) itself.
"The low ETH correlation is a big deal, as it further confirms SHIB's decoupling from the overall crypto markets," commented Admir Tulic.
"This data-driven insight helps validate what many SHIB investors were sensing anecdotally as the token marched to an all-time high this month even as Bitcoin traded sideways."
However, the 60-day data paints a different picture, with the SHIB-BTC correlation rising to 0.43.
"While the 30-day correlation hints at possible decoupling, the 60-day data shows SHIB remains moderately correlated with BTC's price movements," said Admir.
The analyst believes more time is needed to determine if SHIB can sustainably diverge from Bitcoin's influence. The 60-day data does validate SHIB has a high positive correlation with other major altcoins like ETH, DOGE, and UNI.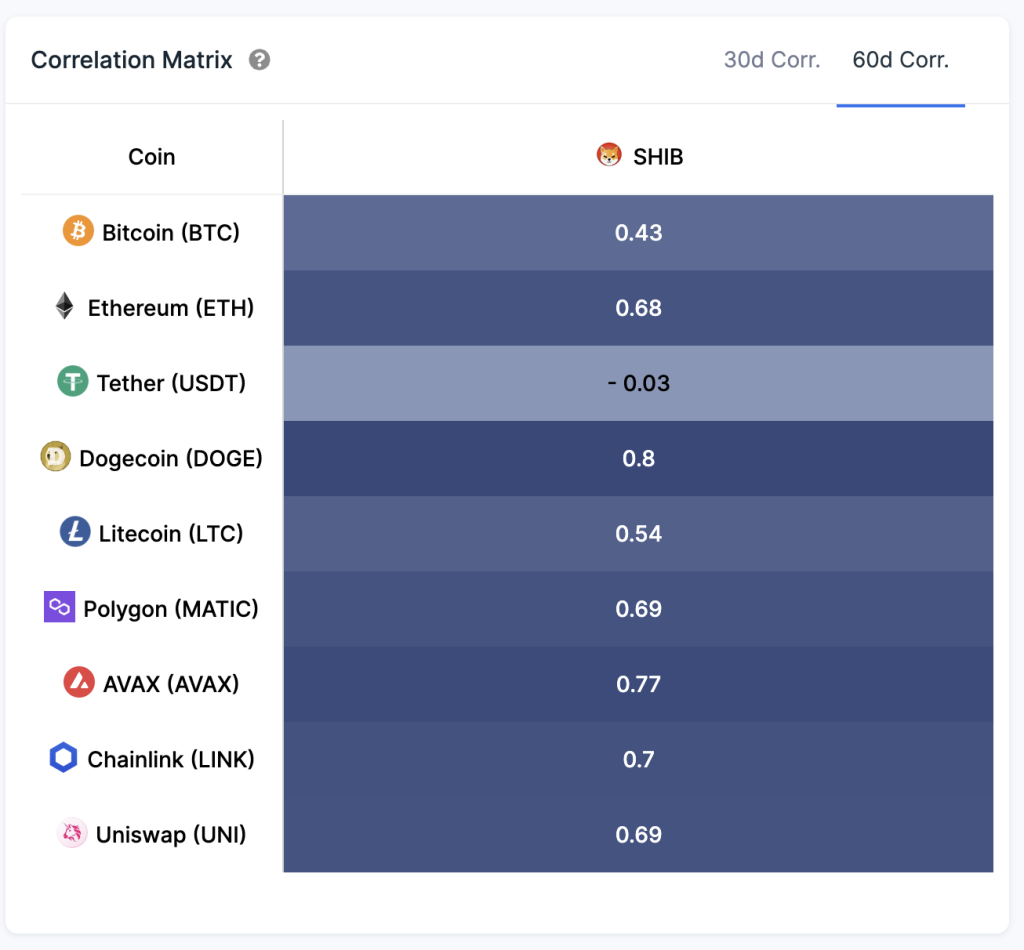 "It's too early to conclude SHIB is fully detaching itself from the broader crypto market trends," commented Tulic. "
But there are early indications it may be developing some independence, at least in the short-term. Longer-term data will provide more clarity on whether this is a temporary anomaly or the start of a major decoupling trend."
Shiba Inu price is $0.00000818, down  -1.82% in the last 24 hours, and the live market cap is $5B. It has circulating supply volume of 999,988,032,197,854 SHIB coins and a max. supply volume of 999,988,032,197,854 alongside $126M 24h trading volume.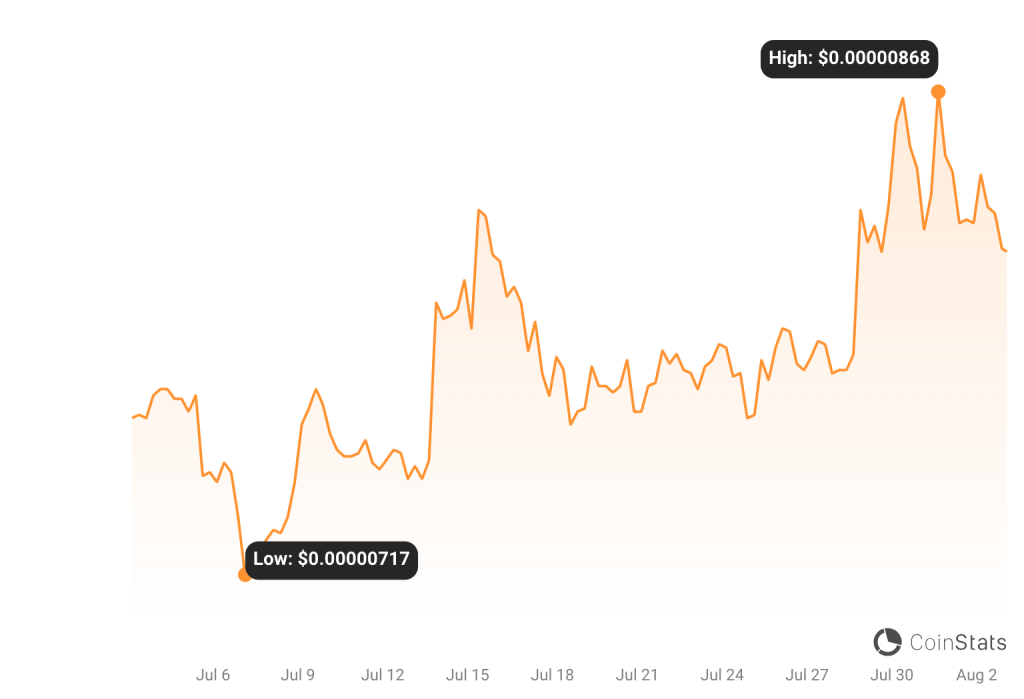 CaptainAltcoin's writers and guest post authors may or may not have a vested interest in any of the mentioned projects and businesses. None of the content on CaptainAltcoin is investment advice nor is it a replacement for advice from a certified financial planner. The views expressed in this article are those of the author and do not necessarily reflect the official policy or position of CaptainAltcoin.com
https://captainaltcoin.com/birth-of-a-new-trend-or-just-a-temporary-fluke-shiba-inu-decoupling-from-bitcoin-data-suggests/