Share:
Chainlink price over the past three days has risen by more than 8%, which is significant for an altcoin given the current market conditions.
LINK holders over the past week have halted their accumulation that had been active since mid-June.
The altcoin is currently sharing a correlation of -0.56 with Bitcoin, aiding investors in booking profits.
Chainlink price is one of the few altcoins to observe any gains at the moment, and the likely reason behind this is its dissociation with Bitcoin. However, the rise noted might be threatened as investors seem to be changing their motive from token accumulation to profit-taking.
Chainlink price bounces back
Chainlink price trading at $7.65 bounced back after testing the 50-day Exponential Moving Average (EMA) to rise by more than 8% in the span of three days. This might have been the result of the negative correlation LINK shares with Bitcoin.
LINK/USD 1-day chart
The biggest cryptocurrency in the world has been struggling to breach the $30,000 mark, and the stagnancy has left the altcoins in a rut of the same struggle. However, LINK broke past it as it shares a -0.56 correlation with Bitcoin, suggesting growth for the altcoin in moments of despair for Bitcoin.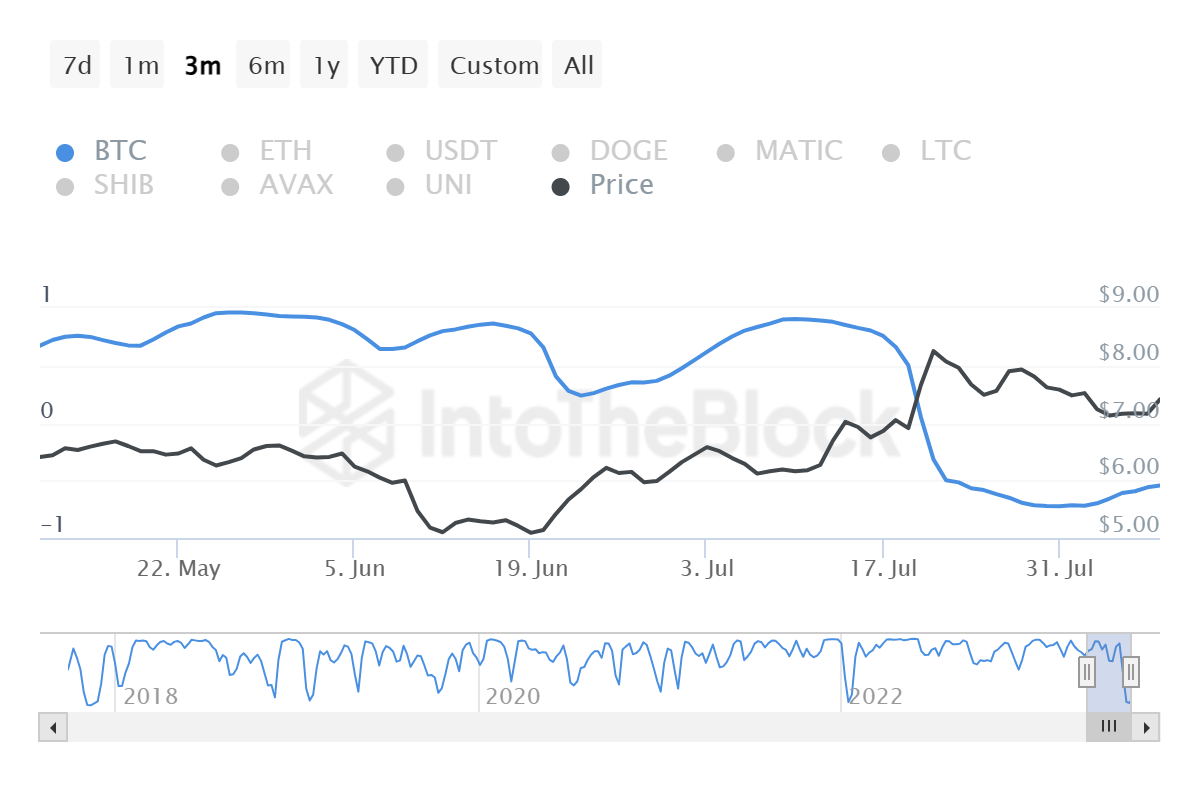 Chainlink correlation with Bitcoin
Consequently, the first bout of gains seemed like gold to investors who seemed to be shifting from their ongoing streak of accumulation to profit booking. The supply on exchanges has been declining since mid-June, falling by more than 6 million LINK until the beginning of this month.
Since then, the indicator has curved, suggesting investors are sending their tokens back to the exchanges, anticipating a price rise that paid off over the past few days.

Chainlink supply on exchanges
This was also evident in the sharp rise in the movement of the coins after months of near dormancy. The velocity of an asset is the rate at which a coin moves through addresses, i.e., changes hands. LINK tokens observed an increase in velocity in the past week, hitting a six-month high and touching a level last witnessed in February this year when the altcoin was trading at approximately the same price.

Chainlink velocity
Thus, Chainlink price now stands to witness corrections if investors decide to offload their holdings to make some bucks on their investment, and any decline below the 50- ,100- and 200-day EMAs would send LINK to a monthly low of $6.38.
---
Like this article? Help us with some feedback by answering this survey:
---
https://www.fxstreet.com/cryptocurrencies/news/chainlink-price-being-negatively-correlated-to-bitcoin-results-in-profits-for-link-holders-202308100247