Share:
Bitcoin price could rise to the $30,400 range as momentum rises but faces further decline amid increasing volatility on lower timeframes.
Ethereum price losing the support at $1,826 means ETH could fall to the $1,782 level as investors exercise caution.
Ripple price slips through critical support levels, eyes a 5% drop to $0.568 as traders cash in July 13 gains.   
Bitcoin (BTC) price shows reduced market dominance, leaving investors wary about touching altcoins. Consequently, Ethereum (ETH) price, just like Ripple (XRP), continues to bleed as investors exercise caution. Accordingly, if BTC weakens further, altcoins could suffer the aftermath, possibly worsening the current bleed.
Also Read: Bitcoin's quarterly chart simplifies confusion, 15% crash likely before $40,000, $50,000, or new all-time high
Bitcoin price delays the inevitable
Bitcoin (BTC) action shows intense strife between bulls and bears as both extremes pull for dominance. The red and green candlesticks on the four-hour chart below point to this fact. Amid this volatility, experts predict BTC to run back to the $30,400 range this week before a potential drop down to the $27,300 and $26,300 levels.
As buying pressure increases from the bullish breaker, Bitcoin price could ascend, potentially breaching the 50-, 100- and 200-day Exponential Moving Averages (EMA) at $29,169, $29,339, and $29,438 levels, respectively. For the layperson, a bullish breaker is a failed demand or supply zone (demand zone in this case).
Further north, and with the Fair Value Gap (FVG) creating an imbalance that has to be filled, Bitcoin price could extend north to test this region at around the $30,400 level before a possible retracement. Such a move would constitute a 5% climb above the press time market value of $28,977. The Relative Strength Index (RSI) supports this outlook, tipping north to show rising momentum.
BTC/USDT 4-hour chart
Conversely, if seller momentum outweighs bullish effort, Bitcoin price could continue south, with a decisive flip of the $28,706 support level into a resistance invalidating the optimistic outlook. If such an outcome prevails, BTC could extend south, possibly tagging the $27,300 support level, or in the dire case, extend a leg south to the $26,300 level. This would constitute a 10% slump.
Also Read: Bitcoin halving cycles show a weakening trend, similar to Litecoin, according to experts.
Bitcoin, altcoins, stablecoins FAQs
Bitcoin is the largest cryptocurrency by market capitalization, a virtual currency designed to serve as money. This form of payment cannot be controlled by any one person, group, or entity, which eliminates the need for third-party participation during financial transactions.
Altcoins are any cryptocurrency apart from Bitcoin, but some also regard Ethereum as a non-altcoin because it is from these two cryptocurrencies that forking happens. If this is true, then Litecoin is the first altcoin, forked from the Bitcoin protocol and, therefore, an "improved" version of it.
Stablecoins are cryptocurrencies designed to have a stable price, with their value backed by a reserve of the asset it represents. To achieve this, the value of any one stablecoin is pegged to a commodity or financial instrument, such as the US Dollar (USD), with its supply regulated by an algorithm or demand. The main goal of stablecoins is to provide an on/off-ramp for investors willing to trade and invest in cryptocurrencies. Stablecoins also allow investors to store value since cryptocurrencies, in general, are subject to volatility.
Bitcoin dominance is the ratio of Bitcoin's market capitalization to the total market capitalization of all cryptocurrencies combined. It provides a clear picture of Bitcoin's interest among investors. A high BTC dominance typically happens before and during a bull run, in which investors resort to investing in relatively stable and high market capitalization cryptocurrency like Bitcoin. A drop in BTC dominance usually means that investors are moving their capital and/or profits to altcoins in a quest for higher returns, which usually triggers an explosion of altcoin rallies.
Ethereum price indicates a potential slump
Ethereum (ETH) price is bleeding from a weakening BTC as the dominance of the king of crypto continues to wane. The largest altcoin by trading volume has lost critical support at $1,826, exposing it to a further decline as the presence of bulls in the market continues to fade.
Unless bulls resurface, Ethereum price could sink lower to record a new range low at around $1,782. This outlook is bolstered by falling momentum as indicated by the dropping RSI, and the Awesome Oscillators (AO) histograms continue turning red.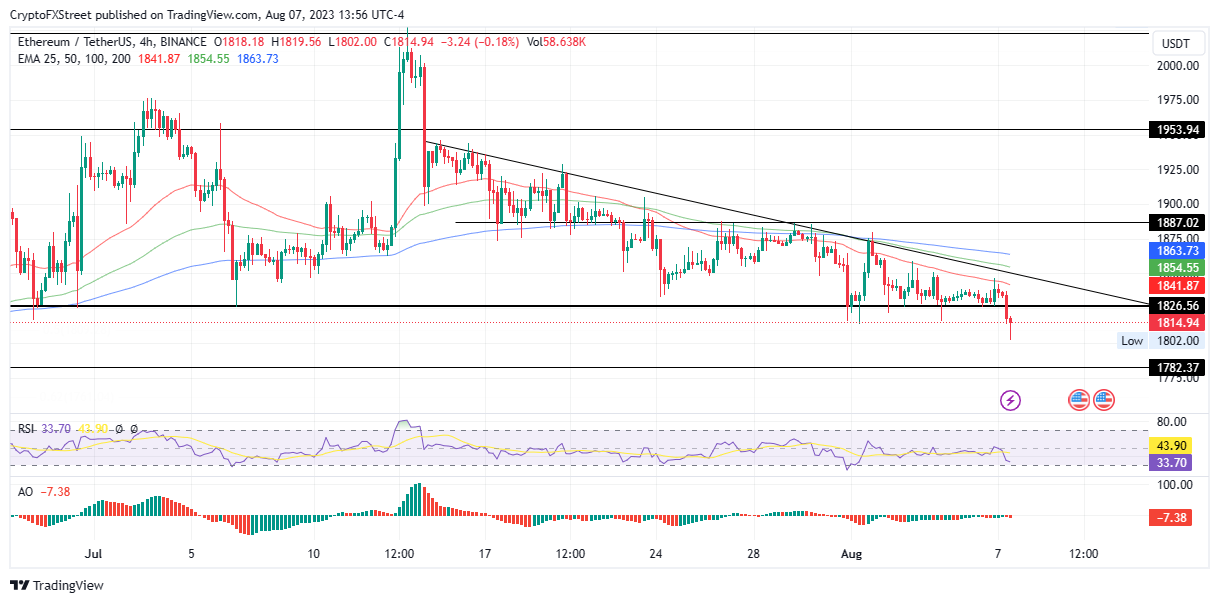 ETH/USDT 4-hour chart
On the other hand, bulls resurfacing could see Ethereum price change direction, potentially restoring above the $1,826 support level as the market stabilizes following collected liquidity represented by the numerous candlestick wicks below the aforementioned level.
Further north, Ethereum price could breach the roadblocks presented by the 50-day EMA at $1,815 and break above the downtrend line to tag the 100-day EMA at $1,854 – or higher, reac hing the 200-day EMA at $1,863.
Notwithstanding, Ethereum price remains in the woods until ETH makes a decisive move above the $1,887 resistance level. However, invalidation of the current gloomy outlook would occur upon a 4-hour candlestick close above the $1,953 hurdle.
Also Read: Coinbase Layer 2 Base mainnet locks in $34.22 million in assets two days before going live.
Ripple price slips through critical support levels
Ripple (XRP) price is heading south as investors continue to cash in on the July 13 gains. This load-shedding exercise comes as the BTC price slump continues to harm altcoins. After flipping the 50-day EMA support at $0.6238 to resistance, XRP now faces the 100-day EMA at $0.5682. Failure of this buyer congestion level to hold could expose the remittance token to further decline, potentially reaching the 200-day EMA at $0.5158.
In a dire case, Ripple price could write off all the ground covered, extending to the $0.4191 support level. Such a move would constitute a 30% price drop below current price levels.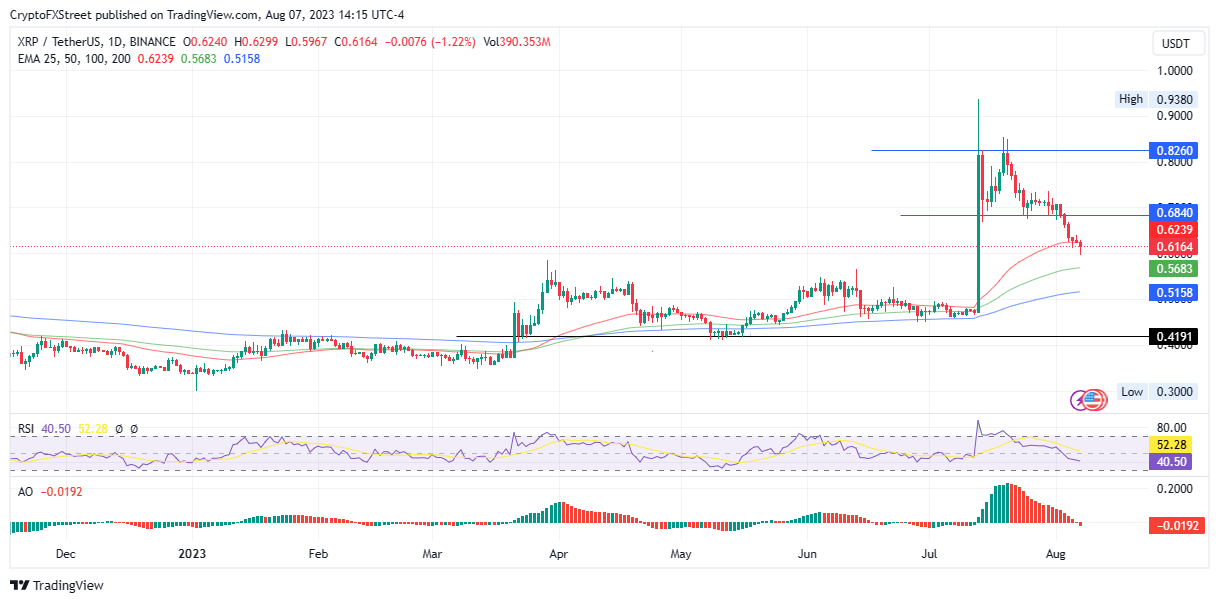 XRP/USDT 1-day chart
On the flip side, increased buyer momentum could restore Ripple price back above the 50-day EMA at $0.6238. In a highly ambitious case, the subsequent bullish push could propel XRP above the $0.6840 or $0.8260.
Also Read: Ripple XRP price on track to run up to $10 bullish target after one final shakeout.
https://www.fxstreet.com/cryptocurrencies/news/top-3-price-prediction-bitcoin-ethereum-ripple-low-btc-dominance-leaves-investors-wary-of-touching-altcoins-202308071849