Litecoin (LTC) will undergo its halving in August. Horizen (ZEN) and ICON (ICX) will release crucial testnets. Tezos (XTZ) will hold an important meeting while Ultra (UOS) will launch a new gaming platform.
Even though the month of July was mostly bearish for the cryptocurrency market, several altcoins posted significant gains, bucking the bearish trend in the process. These five cryptocurrencies below could draw attention during August.
Litecoin (LTC) Halving Can Lead to Price Increase
Price: $91.50
Market Cap: $6.65 billion
Rank: #12
When Litecoin first started, 50 LTC per block were given as reward for miners. This reward halves after 840,000 blocks are mined (roughly every four years). This event is called the halving and is done for deflationary purposes and will continue until the block reward per block becomes 0.
While the current block reward is 12.5, the third Litecoin halving will occur on August 2, further decreasing the reward to 6.25 coins per block.
Whales are loading up prior to the halving, while LTC miners have also injected 400,000 LTC to their reserve balances.
The LTC price also shows bullish signs, since it has broken out from a descending wedge in place since July 3. Breakouts from such structures often lead to significant upward movements. However, the LTC price fell to its pre-breakout levels shortly afterwards.
If the LTC price continues to move upwards, the next resistance will be at $102, an increase of 13% measuring from the current price.
However, the breakout will be invalidated if the LTC price falls below the breakout level at $90. In that case, the price could correct to $82, a drop of 9%.
Icon (ICX) Launches Incentivized Testnet
Price: $0.22
Market Cap: $211.9 million
Rank: #158
The ICX xCall incentivized testnet started on July 31. The testnet will focus on feature testing, decentralized applications and tooling. Quality submissions can receive up to 845,000 ICX.
The ICX price broke out from a descending resistance line on June 22. Despite the breakout, the price failed to clear the $0.25 horizontal resistance area. To the contrary, the area rejected it twice and created a lower high (red icon). This is a bearish sign that suggests the breakout might not have been legitimate.
So. the ICX trend cannot be considered bullish until the price moves above the $0.25 resistance area.
If the ICX price breaks out, it can increase to the next resistance at $0.55. This will be an increase of 55%. However, if it fails to do so, a 22% drop to the $0.17 area will be expected.
Horizen (ZEN) Testnet Goes Live
Price: $9.49
Market Cap: $132.7 million
Rank: #211
The elimination of the Horizen mainchain shielded pools will be executed during the forthcoming obligatory software upgrade of ZEN 4.1. The anticipated release schedule is set as follows:
Mainnet – September 2023
The ZEN price movement is very similar to that of ICX. While the price has broken out from a descending resistance line, it failed to clear its main horizontal resistance at $9.45. Rather, it was rejected three times, creating long upper wicks (red icons).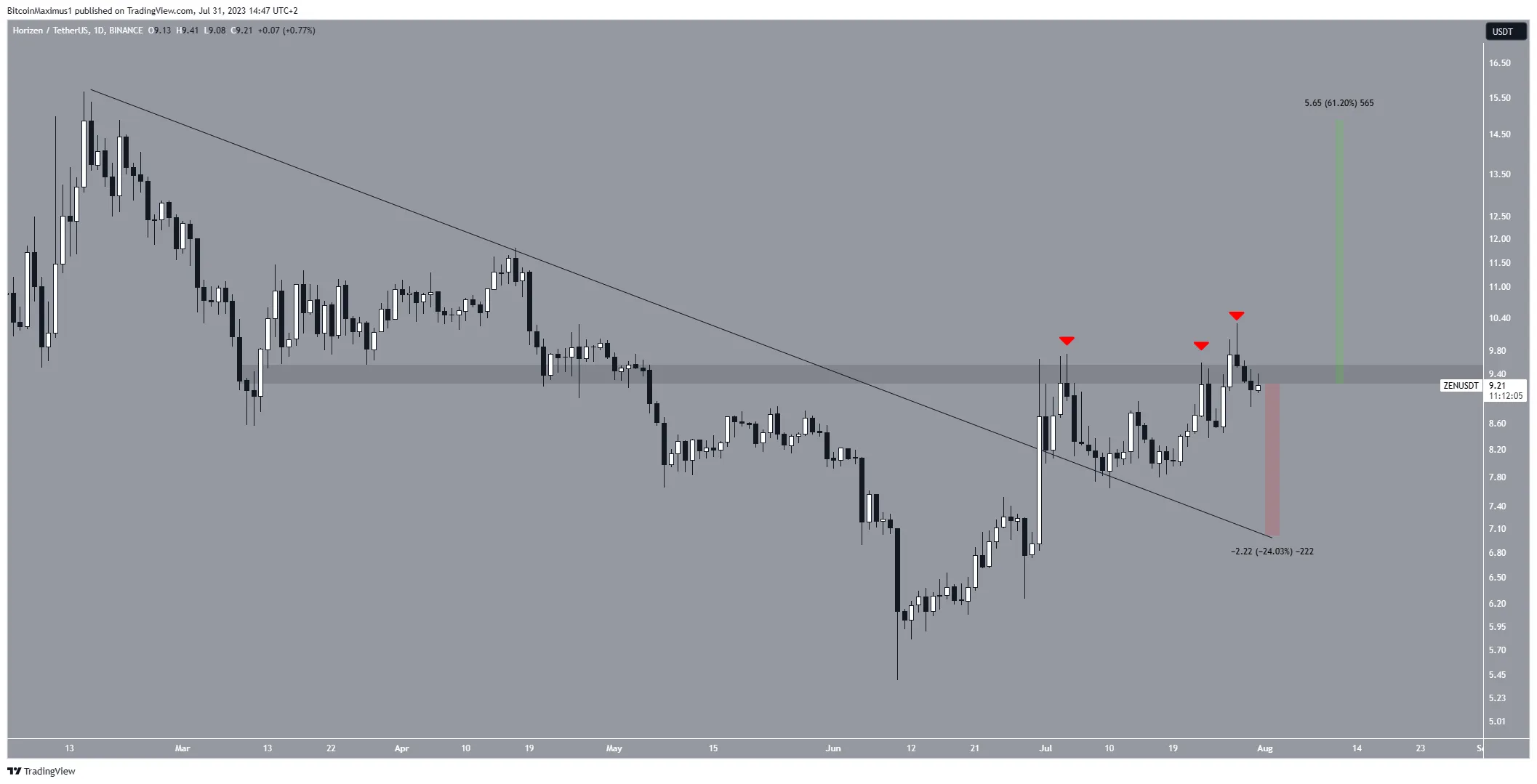 However it has since reclaimed this resistance level. If the rejection occurs once more, ZEN can fall to the descending resistance line at $7, a drop of 25% measuring from the current price.
On the other hand, if ZEN breaks out, it can rally by 60% and move to $15. Currently, the upcoming testnet shows bullish momentum for ZEN as the price is up nearly 3% on the day.
Tezos Meetup Can Lead to Increased Interest
Price: $0.84
Market Cap: $797.8 million
Rank: #57
The Tezos London meetup will be held on August 2. It will include a DeFi workshop that is focused on the liquidity baking decentralized exchange, a unique Tezos feature.
The XTZ price broke out from a descending resistance line in the beginning of July. While breakouts from such structures are expected to lead to significant increases, this was not the case for Tezos. Rather, the price has hovered around the breakout level since.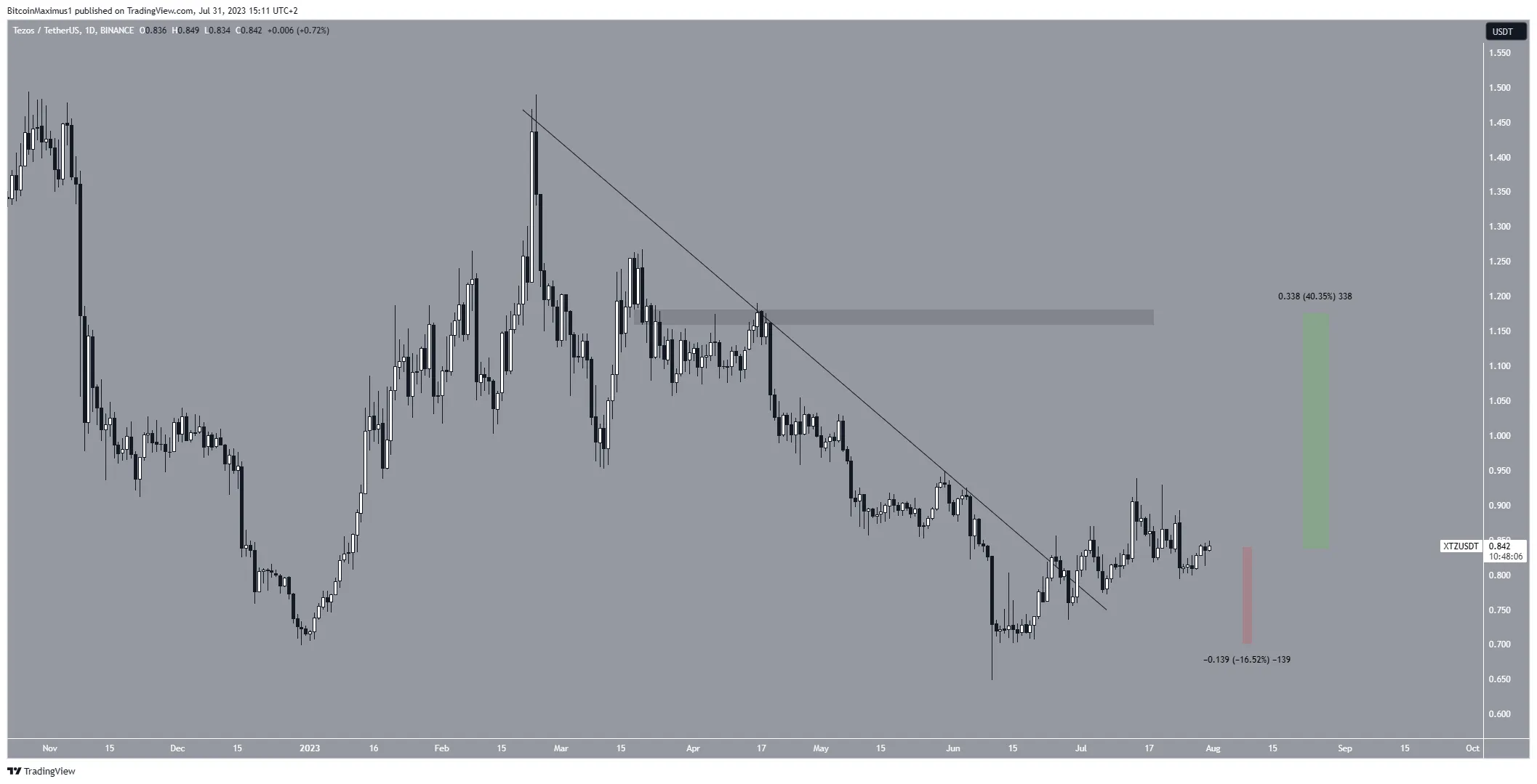 If an increase fails to materialize, XTZ could fall to its yearly low at $0.70, a drop of 17% measuring from the current price. However, if the increase continues, the price can move upwards by 45% and reach the next resistance at $1.20.
Ultra (UOS) Launches Games Platform
Price: $0.17
Market Cap: $47.2 million
Rank: #426
Ultra arena launches on August 8. The arena is an esports tournament platform that will allow gamers to compete in their favorite games with their friends in order to win various prizes. The arena will become available on the Ultra platform.
The launch could provide a much-needed boost for the UOS price, which has nearly broken down from its yearly low support area at $0.17.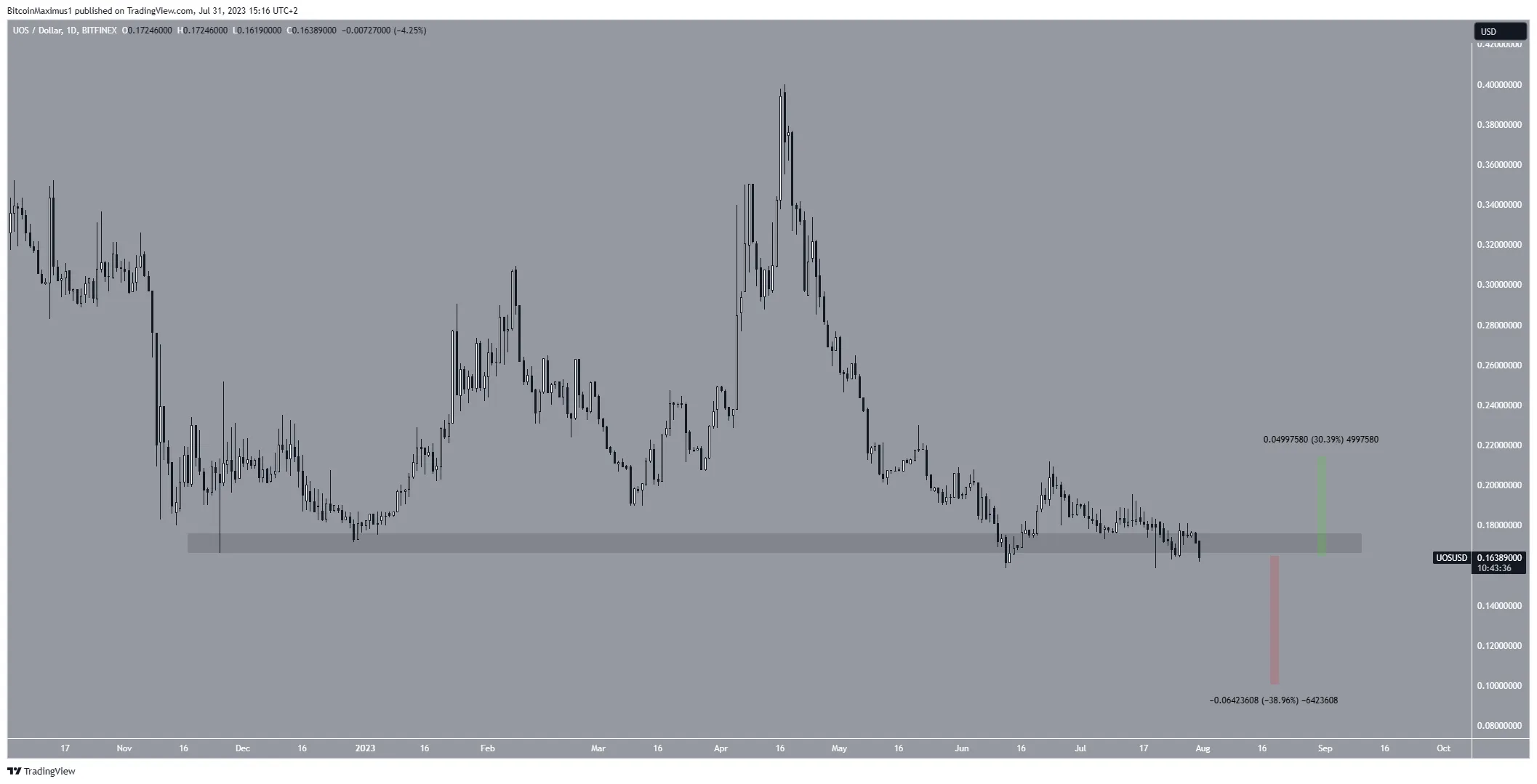 If this yearly low support confirms a breakdown, a 40% drop to the next closest support at $0.10 could occur. On the other hand, if a bounce transpires, the price can increase by 30%.
For BeInCrypto's latest crypto market analysis, click here
Disclaimer
In line with the Trust Project guidelines, this price analysis article is for informational purposes only and should not be considered financial or investment advice. BeInCrypto is committed to accurate, unbiased reporting, but market conditions are subject to change without notice. Always conduct your own research and consult with a professional before making any financial decisions.


https://beincrypto.com/5-altcoins-keep-an-eye-on-august/