Share:
Santiment data shows that Bitcoin whales have tightened their grip on the crypto as smaller traders give in to selling appetite.
Address activity has soared to year highs, with the countdown to the BTC halving closing in.
Daily active addresses rising without major price action could indicate large holders acquiring through OTC.
Bitcoin (BTC) has displayed a rather unusual picture from a broader outlook, with the daily active addresses failing to mirror its price. Santiment data attributes this to increased activity and therefore faith in the asset among large holders, even as the smaller traders give in to the pressure.
Also Read: Top 3 Price Prediction Bitcoin, Ethereum, Ripple: $40 million in total liquidations as BTC Yanks
Bitcoin on-chain activity shows resilience by whales as smaller traders loosen their grip
Bitcoin (BTC) price action has failed to indicate a striking price action despite the fact that the daily active addresses have shown impressive performance over the last five years. Behavior analytics platform for cryptocurrencies, Santiment, which sources on-chain, social and development information, attributes this increased traffic to large holders growing their portfolios, which in their wisdom could point to a possible move in progress.  
BTC daily active addresses since 2018
The number of daily active addresses is at a multi-month high, rising from 754,000 in July 2021 to the current 1.08 million.  This represents a 43% increase in five years, which is not a mean feat considering the gloom in the market over this period as shown in the chart above.
The mismatch between Bitcoin price action and daily active address, where the latter shows high activity, indicates that while whales have been accumulating, their actions have not impacted the price much. This could only mean they are buying discretely over the counter (OTC) as opposed to directly on exchanges.
Large capital has a grip on the value of the crypto market and is playing calmly, finishing off the last enthusiasts and those who get ahead of the line.
In the BlackRock article, we explained how institutional investors (typically large holders) acquire in large volumes without disturbing the market. They go through custody solutions to conceal their activities, which may involve finding a broker for a private sale and settle the exchange in batches. With the transactions happening outside the exchange at an agreed price different from the spot price indicated on the exchange, there is minimal disturbance in the market.
Renowned Bitcoin writer Mark Helfman says:
Since bitcoin is pseudonymous and you can create new wallets ad nauseum, plus brokers are not obligated to report private deals, it's difficult to know who's moving money where without forensic technology or an insider who knows about the deal.
Notably, this also means that large holders can still also dump Bitcoin to drive down the price.
Cognizant that the institutional investors are likely the whales in question, known for being more experienced, knowledgeable, and with influence and connections, the fact that they have huge Assets Under Management (AUM) means it would take a small fraction of their holdings to influence Bitcoin price. 
Bitcoin halving countdown
Meanwhile, the market is anticipating the Bitcoin halving, slated for around April 2024, barely seven months out. The event is likely to trigger a new phase of bullish momentum for BTC, surpassing the peak prices recorded in the previous cycle and potentially recording a new all-time high.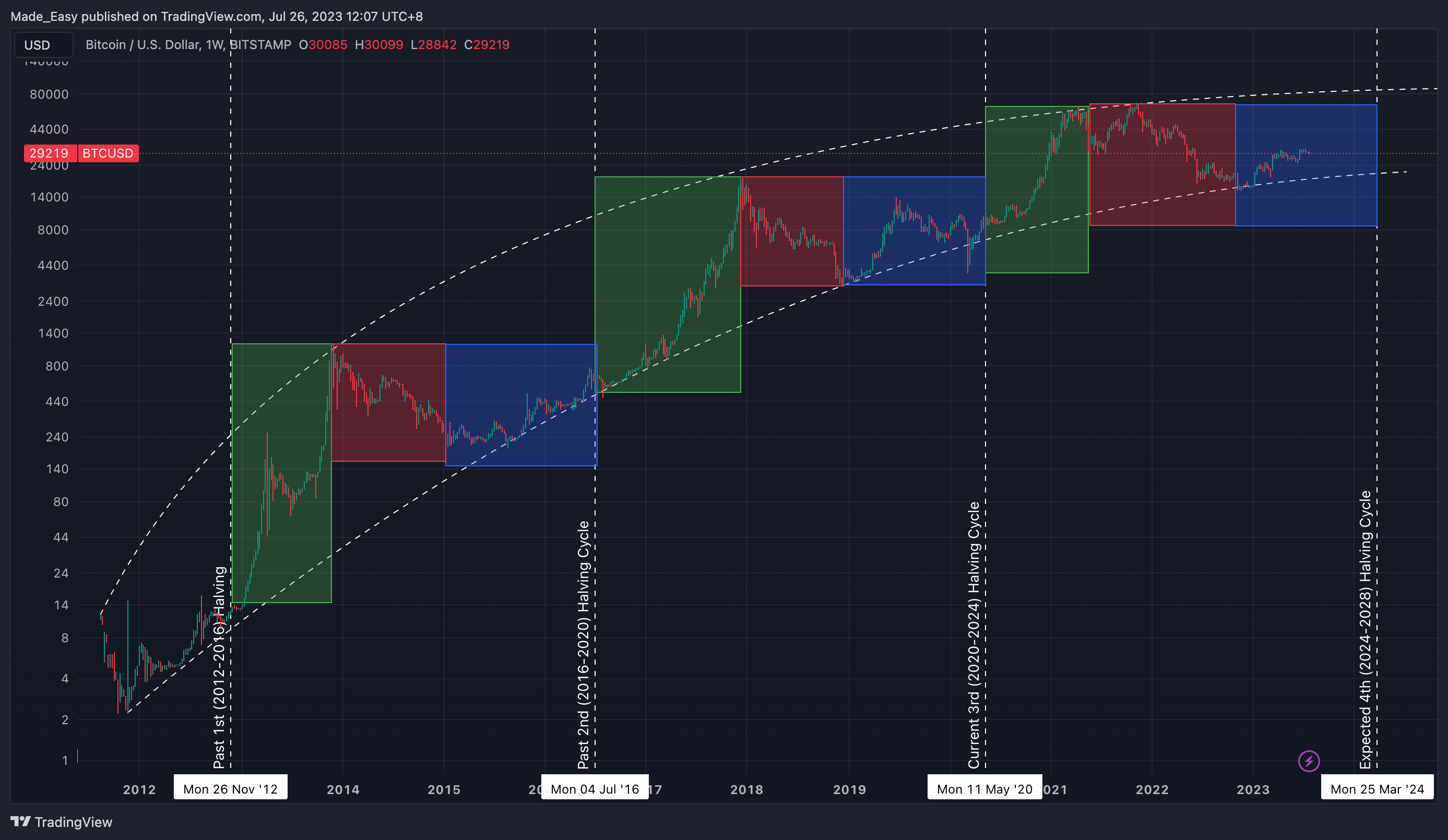 BTC halving cycle
As indicated in the chart above, every cycle is followed by renewed yearlong bullishness, with Bitcoin price recording a new all-time high, before another yearlong bear market follows.
Also Read: Best period to invest in altcoins is 6-10 months prior to the Bitcoin halving, that's now; analyst says
Bitcoin, altcoins, stablecoins FAQs
Bitcoin is the largest cryptocurrency by market capitalization, a virtual currency designed to serve as money. This form of payment cannot be controlled by any one person, group, or entity, which eliminates the need for third-party participation during financial transactions.
Altcoins are any cryptocurrency apart from Bitcoin, but some also regard Ethereum as a non-altcoin because it is from these two cryptocurrencies that forking happens. If this is true, then Litecoin is the first altcoin, forked from the Bitcoin protocol and, therefore, an "improved" version of it.
Stablecoins are cryptocurrencies designed to have a stable price, with their value backed by a reserve of the asset it represents. To achieve this, the value of any one stablecoin is pegged to a commodity or financial instrument, such as the US Dollar (USD), with its supply regulated by an algorithm or demand. The main goal of stablecoins is to provide an on/off-ramp for investors willing to trade and invest in cryptocurrencies. Stablecoins also allow investors to store value since cryptocurrencies, in general, are subject to volatility.
Bitcoin dominance is the ratio of Bitcoin's market capitalization to the total market capitalization of all cryptocurrencies combined. It provides a clear picture of Bitcoin's interest among investors. A high BTC dominance typically happens before and during a bull run, in which investors resort to investing in relatively stable and high market capitalization cryptocurrency like Bitcoin. A drop in BTC dominance usually means that investors are moving their capital and/or profits to altcoins in a quest for higher returns, which usually triggers an explosion of altcoin rallies.
---
https://www.fxstreet.com/cryptocurrencies/news/bitcoin-address-activity-soars-to-multiyear-highs-ahead-of-btc-halving-santiment-points-to-whale-resilience-202309182312