Share:
Bitcoin Cash, Chainlink, MakerDAO and THORChain are among the altcoins that recorded double-digit gains during a positive week for crypto.
BCH rose 13%, LINK 15%, MKR 13%, and RUNE 14%, with big Bitcoin and USDT wallets recording huge accumulations of the tokens.
Santiment analytics anticipate a continued rally into October, owing to the massive accumulations.
The week beginning September 25 was one of the most positive ones for the cryptocurrency market. However, while some ecosystems recorded single-digit gains, Bitcoin Cash, Chainlink, Maker DAO, and THORChain stood out with double-digit gains. Experts say the bullishness could continue into the new month.
Also Read: Ethereum futures ETFs that will be given SEC accelerated approval to launch on Monday, experts say
Santiment anticipates at least four rallies in October
An analysis by Santiment speculates at least four rallies in October, with Bitcoin Cash (BCH), Chainlink (LINK), Maker DAO (MKR), and THORChain (RUNE) likely to continue the uptrends they took to beginning the last week of September.
BCH/USDT 1-day chart, LINK/USDT 1-day chart, MKR/USDT 1-day chart, RUNE/USDT 1-day chart
According to the behavior analytics platform for cryptocurrencies, which sources on-chain, social, and development information, Santiment, the anticipated rally comes as big Bitcoin (BTC) and Tether (USDT) wallets recorded significant accumulations of BCH, LINK, MKR, and RUNE.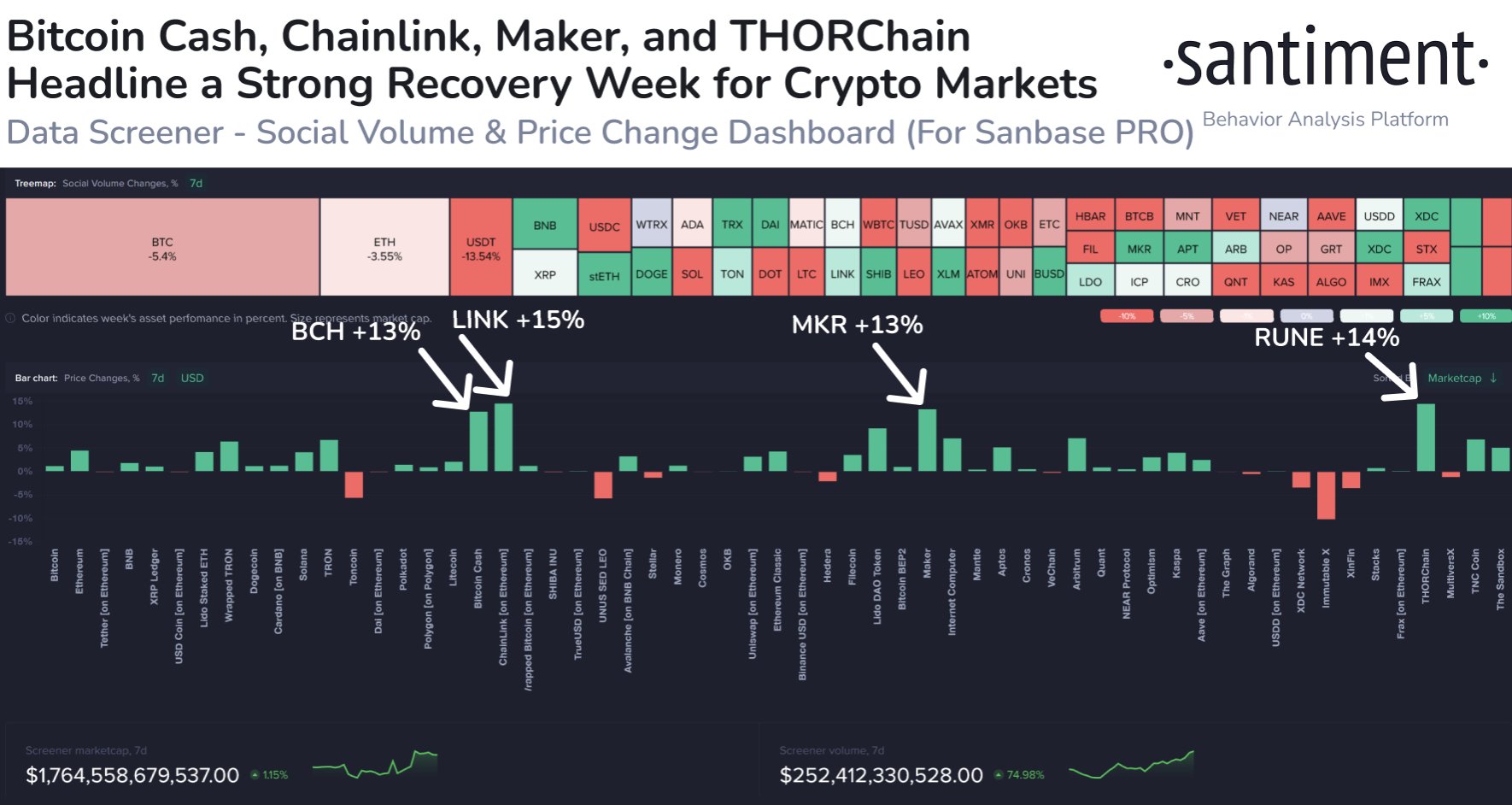 Source: Santiment
The massive accumulations point to increased interest for these altcoins, and therefore demand, which could increase their value should the big wallets continue in the accumulation pattern. Nevertheless, it is important to do your own research and only invest in money you are okay parting with. 
Cryptocurrency metrics FAQs
The developer or creator of each cryptocurrency decides on the total number of tokens that can be minted or issued. Only a certain number of these assets can be minted by mining, staking or other mechanisms. This is defined by the algorithm of the underlying blockchain technology. Since its inception, a total of 19,445,656 BTCs have been mined, which is the circulating supply of Bitcoin. On the other hand, circulating supply can also be decreased via actions such as burning tokens, or mistakenly sending assets to addresses of other incompatible blockchains.
Market capitalization is the result of multiplying the circulating supply of a certain asset by the asset's current market value. For Bitcoin, the market capitalization at the beginning of August 2023 is above $570 billion, which is the result of the more than 19 million BTC in circulation multiplied by the Bitcoin price around $29,600.
Trading volume refers to the total number of tokens for a specific asset that has been transacted or exchanged between buyers and sellers within set trading hours, for example, 24 hours. It is used to gauge market sentiment, this metric combines all volumes on centralized exchanges and decentralized exchanges. Increasing trading volume often denotes the demand for a certain asset as more people are buying and selling the cryptocurrency.
Funding rates are a concept designed to encourage traders to take positions and ensure perpetual contract prices match spot markets. It defines a mechanism by exchanges to ensure that future prices and index prices periodic payments regularly converge. When the funding rate is positive, the price of the perpetual contract is higher than the mark price. This means traders who are bullish and have opened long positions pay traders who are in short positions. On the other hand, a negative funding rate means perpetual prices are below the mark price, and hence traders with short positions pay traders who have opened long positions.
---
https://www.fxstreet.com/cryptocurrencies/news/bitcoin-cash-chainlink-maker-dao-thorchain-four-altcoins-whose-rallies-could-continue-in-october-202309300035