Share:
Bitcoin's (BTC) price has spiked 5% in the past 24 hours, feeding optimism that the long-awaited "Uptober" rally has finally arrived.
BTC is now hovering around the $28,300 level, with investors hopeful that the coin can continue its surge and push toward the $30,000 resistance zone.
While Bitcoin continues its upward trajectory, all eyes are on the trending crypto presale project Bitcoin Minetrix (BTCMTX), which has already raised over $320,000 in early funding.
Bitcoin posts first green September since 2016 as bulls take control
According to CoinGlass, Bitcoin closed out September with a monthly return of 3.91% – its first positive month since June.
This is also the first time Bitcoin has finished September in the green since 2016 when the coin's value rose just over 6%.
BTC has been on a tear since September 11, rising 13% and breaching the 20-day and 50-day Exponential Moving Averages (EMAs).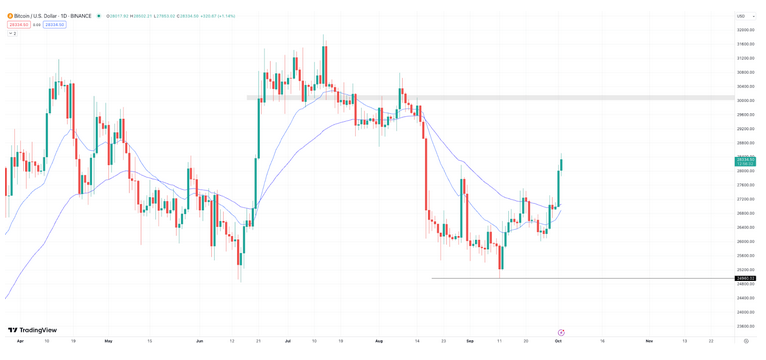 Additionally, the Relative Strength Index (RSI) for Bitcoin is now at 68 on the daily time frame – indicating that the bulls are firmly in control.
This follows Bitcoin breaking above a descending trendline that had been in play since August 29.
Given its current momentum, there's a growing belief throughout the crypto community that BTC can push back to the psychologically important $30,000 level, which has proven to be a challenging obstacle in recent months. 
"Uptober" effect in full force as BTC eyes $30,000 level
Bitcoin's momentum comes at an interesting time, coinciding with the start of what many crypto investors refer to as "Uptober."
This term refers to the tendency for Bitcoin's price to post substantial gains in October, as historical data shows.
According to CoinGlass, Bitcoin has closed October higher than September's close in each of the last ten years.
Moreover, the average gain for BTC in October since 2011 has been over 16%.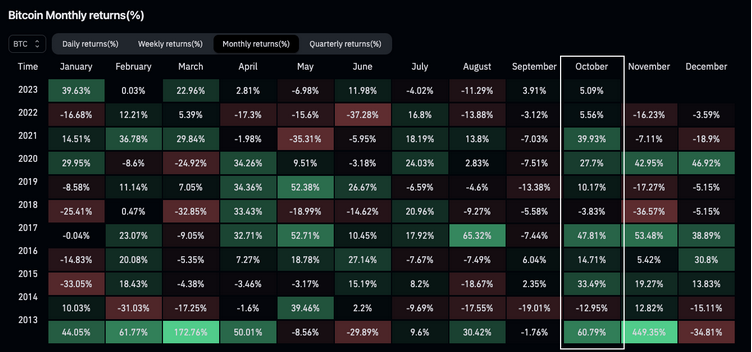 There are many theories for why Uptober is so fruitful for Bitcoin, but the main one relates to increased trading activity in the run-up to the holiday season, which fuels the coin's price.
Some investors may also aim to front-run expected gains later in the year by getting exposure to Bitcoin early in October.
If history repeats itself, BTC could be on track to regain the $30,000 level before the month is out.
With Bitcoin entering a new bullish phase and the Crypto Fear & Greed Index finally out of "Fear" territory, the prospect of Uptober has many investors excited about what's to come over the next few weeks.
Potential Bitcoin-alternative Bitcoin Minetrix Presale reaches $320,000 milestone as investor excitement builds
While Bitcoin grabs the headlines with its surprise rally, all eyes are now shifting to the trending crypto presale project Bitcoin Minetrix (BTCMTX).
This decentralized cloud mining platform aims to open crypto mining to everyday investors through a unique mechanism called "Stake-to-Mine."
Using this mechanism, users can stake BTCMTX tokens to earn mining credits, which are then burned to access cloud mining power.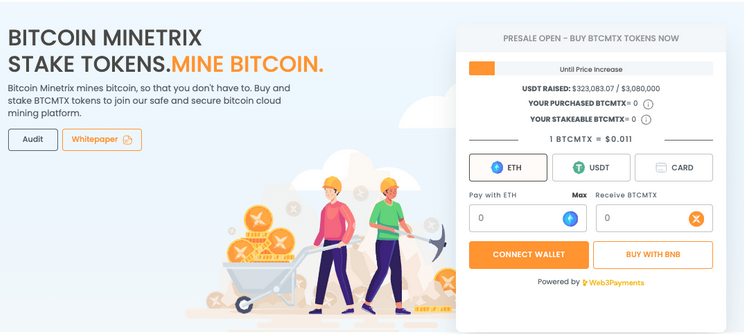 This ingenious model even allows users to generate high yields on their holdings, currently at 2,399% per year – with over 17.3 million BTCMTX staked already.
Combine this with the potential to earn BTC through the Stake-to-Mine mechanism, and it's clear why Bitcoin Minetrix's presale is gaining so much traction. 
Prospective investors can buy BTCMTX tokens through this presale for $0.011 – a strategy that has helped developers raise over $320,000 in under two weeks.
With the presale already over 10% of the way to its soft cap goal, would-be investors must act quickly to obtain BTCMTX tokens before the offering price increases.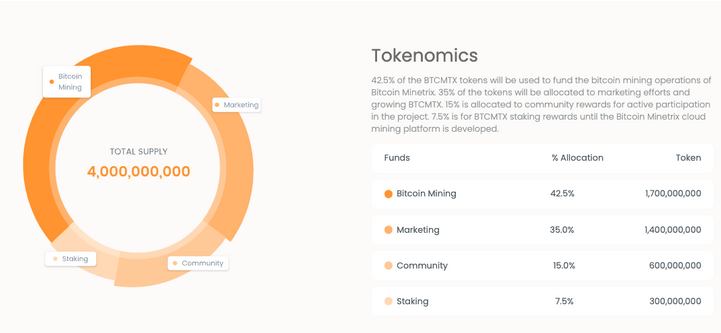 Many in the crypto community speculate that getting involved at such a low price could prove a wise decision in the long run.
Michael Wrubel, a crypto YouTuber with over 380,000 subscribers, has gone on record to say he is "bullish on BTCMTX," further adding to the project's credibility.
With presale demand surging and the crypto market rebounding, all indications point to BTCMTX potentially becoming the next big thing as we enter the final months of 2023.
---
Visit Bitcoin Minetrix Presale
---
https://www.fxstreet.com/cryptocurrencies/presale-token-news/bitcoin-price-jumps-5-as-uptober-hype-takes-hold-but-could-btc-minetrix-be-a-better-buy-after-raising-320k-202310021241