The cryptocurrency market has pulled back in the past 24 hours, with Bitcoin (BTC) down just over 2% from Monday evening's high of $35,250.
Ethereum (ETH) and XRP (XRP) have also pulled back slightly as investors take a breather following a week of solid gains.
However, one token bucking the trend is Bitcoin Minetrix (BTCMTX), which continues to impress investors after passing the $2.2 million milestone in its ongoing presale.
Recent ETF Developments Cause Investors to Pull Back
Two key developments in the crypto market over the past 24 hours are weighing on investor sentiment.
First, the SEC fined BlackRock $2.5 million for incorrectly describing investments made by one of its funds between 2015 and 2019.
The world's largest asset manager failed to portray the fund's exposure to the entertainment industry accurately.
While unrelated to crypto, the fine highlights the SEC's strict oversight of fund disclosures – which has cooled hopes that BlackRock's spot BTC ETF might be announced soon.
These hopes were dashed further as the ARK 21Shares filing did not appear on the DTCC platform despite rumors that it would.
The SEC has only greenlighted BTC futures ETFs so far, and with crypto still technically in a long-term bear market, investors are hopeful a spot ETF can be announced soon to provide a positive catalyst.
However, the SEC has revealed concerns about price manipulation and custody.
While product development continues, regulators appear to be treading carefully – with the lack of an ARK ETF listing showing there could still be work to be done before one of these funds becomes a reality.
Major Cryptos See Notable Losses as Market Corrects
Given the two points raised above, it's no surprise that the crypto market has pulled back slightly in the past day.
Bitcoin has fallen to $34,580, with the price appearing to consolidate just below the vital $35,000 level.
Ethereum has also come under pressure, meaning the token is now valued at $1,790 – 3% lower than Tuesday's high.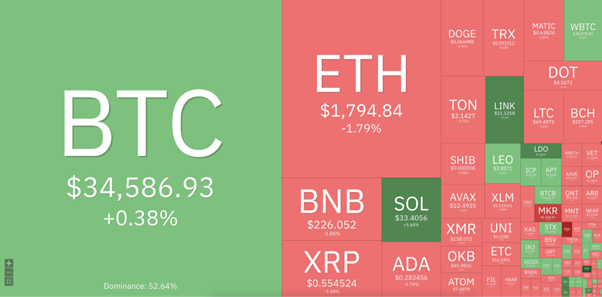 XRP has sunk almost 6% from its local peak, with the price now hovering around the $0.55 level.
Other major altcoins, like Solana and Cardano, have also pulled back sharply, with the technical picture hinting that a consolidation period could be on the cards.
Such periods of consolidation are natural after explosive run-ups, as investors take profits and reassess their positions.
As such, traders will likely remain cautious throughout the week, especially if there are no new updates around BlackRock's ETF filing.
Bitcoin Minetrix Presale Gains Steam Amid Market Correction & Raises $2.2m
Although crypto prices are pulling back, the new project Bitcoin Minetrix (BTCMTX) is seeing substantial growth during its presale phase.
Bitcoin Minetrix's presale has now raised over $2.2 million, with the platform's native BTCMTX token being touted for 10x (or more) gains once listed on exchanges.
Much of the buzz around Bitcoin Minetrix stems from the development team's aim to tokenize mining credits on the Ethereum blockchain.
This allows BTCMTX holders to gain exposure to Bitcoin mining revenues while also earning yields of 258% per year.
The whole process is handled through a user-friendly dashboard, which will be available on desktop and mobile devices.
With Bitcoin looking likely to continue its upward rise, especially with the next halving fast approaching, the future looks promising for Bitcoin Minetrix.
Moreover, the global crypto mining market is expected to be valued at $7 billion by 2032 – a projection that suggests Bitcoin Minetrix may have a massive opportunity in the years ahead.
With BTCMTX tokens currently priced at just $0.0112 during the presale, many early backers believe now is the ideal time to get involved while the project is still under the radar.
https://www.newsbtc.com/news/company/crypto-prices-pull-back-but-traders-think-this-bitcoin-mining-token-could-10x-after-raising-2-2m/