Nvidia: The Leader in AI
Zacks Rank #1 (Strong Buy) stock Nvidia ((NVDA – Free Report) ) will report third-quarter earnings after the market close today. Nvidia is a leading technology company renowned for its graphics processing units (GPUs) that power a wide range of visual computing applications, including gaming, professional visualization, crypto mining, and artificial intelligence. In the AI industry, Nvidia's GPUs are particularly dominant due to their parallel processing capabilities, which excel at handling the complex mathematical computations required for machine learning and deep learning tasks. The company's CUDA parallel computing architecture and specialized hardware, such as Tensor Cores in its newer GPUs, have become integral to accelerating AI workloads. To summarize, Nvidia provides the technology that enables researchers and developers to leverage powerful computing resources for cutting-edge AI applications.
Earnings Estimates
Nvidia has the most impressive earnings growth out of any company on Wall Street, let alone a trillion-dollar company. Last quarter, earnings grew 429% year-over-year. This quarter, Zacks Consensus Estimates expect earnings to be higher by 479.31% compared to last year's period.
Image Source: Zacks Investment Research
Surprise History
Positive earnings surprises tend to drive stocks higher. In 17 of the past 19 quarters, Nvidia has delivered earnings that beat analyst expectations.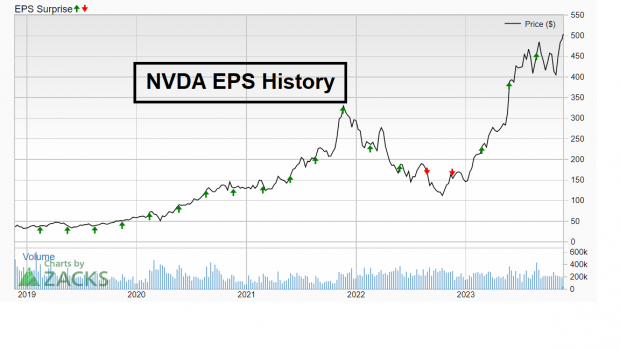 Image Source: Zacks Investment Research
Nvidia, a member of the highly ranked semiconductor group (top 15%), also has a positive Earnings ESP Score. Stocks with a positive Zacks ESP Score and a rank of #3 or better tend to bear earnings and outperform the next year.
Expected Move
The options market is expecting a 7.8% move after earnings. Last quarter, the stock finished flat after better-than-expected earnings. The two prior quarters saw the stock gap up 24% and 14%.
Price Action
Nvidia has exhibited robust price action for all of 2023. Into earnings, the stocks is up 245% versus the S&P 500's 18%. After the last earnings "sell the news" event, the stock has consolidated bullishly and is in the process of emerging from a monthly bull flag.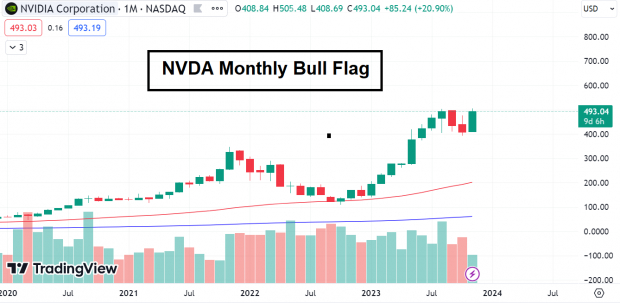 Image Source: Zacks Investment Research


https://www.zacks.com/commentary/2187388/nvidia-eps-preview